Susan writes:
Hi Pete,
I would be so grateful for your help with a mattress for my mother. 
She'll be 83 years old tomorrow, is petite...5'2" and 120lbs. 
Mom has severe scoliosis and sleep apnea. 
She hasn't had a good night's sleep in years and has hip pain daily. 
Most nights she sleeps in a recliner.
An adjustable base is a must. Is there a mattress you would recommend for her? 
She talking about all latex.
But after reading some of your posts, I'm not convinced that's best for her scoliosis. 
Fingers are crossed you have the magic solution she's been seeking!
Thanks, Susan
Hi Susan,
Let me start with what you think you know.
Your mothers head needs to be elevated.
Her spine requires that she sleeps with her spine in its best alignment.
As soon as you raise the head of an adjustable bed, you can forget about proper spinal alignment.
Here's the best way to solve the breathing problem without exacerbating her back and hip pain. 
Click on this link:
https://www.bedbathandbeyond.com/store/product/blond-wooden-bed-lifts-set-of-4/1013232644?skuId=13232644&store=&enginename=google&mcid=PS_googlepla_nonbrand_storage_online&product_id=13232644&adtype=pla_with_promotion&product_channel=online&adpos=&creative=224124676749&device=c&matchtype=&network=g&gclid=EAIaIQobChMIhOzzkaGy9QIVJYFaBR0cqgl5EAQYASABEgK4cPD_BwE&gclsrc=aw.ds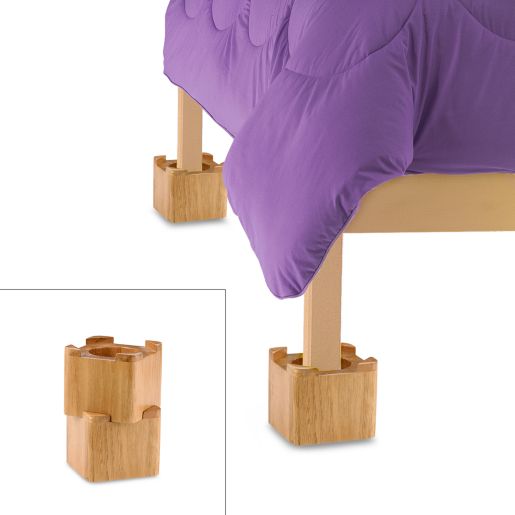 These bed risers could very well be all you need to buy.
If she is still uncomfortable after you get those installed, get back to me with the following information:
What mattress is she sleeping on now?
How old is it?
What's her complaint about it?
Thanks, Pete
VERY IMPORTANT:
Keeping your mattress clean and dry will increase its longevity.
We recommend our Organic Cotton Waterproof Mattress Protector. 
Website: http://themattressexpert.com/
Email: [email protected]
Voicemail: 1-856-874-6894 
Free Delivery...Factory Direct.
All Items Made Factory Fresh to Fill Your Order
Serving The US & Canada...NO SALES TAX.